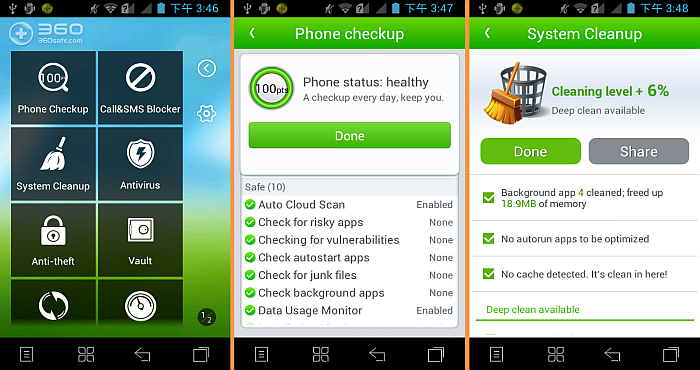 360 Mobile Safe is one of the vast array of useful and security phone management tools available on the market today. 360 Mobile Safe is a complete featured optimization and safety app for mobile phones. It features in Vulnerability fixing, Antivirus and Phone checkup. However, Mobile Safe 360 should not be confused with the lesser-featured 360 Mobile Security because it is the only application that is totally free.
Main Features of 360 Mobile Safe
The Phone Checkup – This is an all in one solution that carries out vulnerability scan, virus scan, security protection check and trash scan with a single click.
Vault – With this feature, you your communication information with your Special Ones are secured. You can also use it to encrypt your special apps, account password, pictures, files and SMS.
Anti-theft – It comes with lock, alarm, locate, erase and alert functions that will help you protect the vital data and retrieve your device if you mistakenly lost it. It is simply a complete anti-theft solution for you, in case you lose your phone.
Contacts Backup – For easy restore, this feature is used to back up your calendar events, SMS, contacts and even 360 Security settings to the SD card.
Data Monitor – You can manage your network and apps activities and make full use of your data plan without having to worry about surplus data charges.
Calls and SMS Blocker – This feature will keep your PC safe from unwanted SMS and phone calls with the advanced blocker Engines.
Phone Cleaner – Free up your Gigabytes and Megabytes of storage for videos, music and photos and also clear your corrupt APKs, privacy history and files with phone cleaner.
Antivirus – With twofold layer antivirus protection of cloud engines and 360 QVS of 360 Mobile Safe, your system is safe from the latest threats.
Additional Use Function
Other functions and features that make 360 Mobile Safe unique and protect the life of your mobile phone from all aspects are the Wi-Fi checkup, Security Contacts, Unnecessary fee protection, mobile data buying, phone fee charging, caller location display and the guard of the payment.