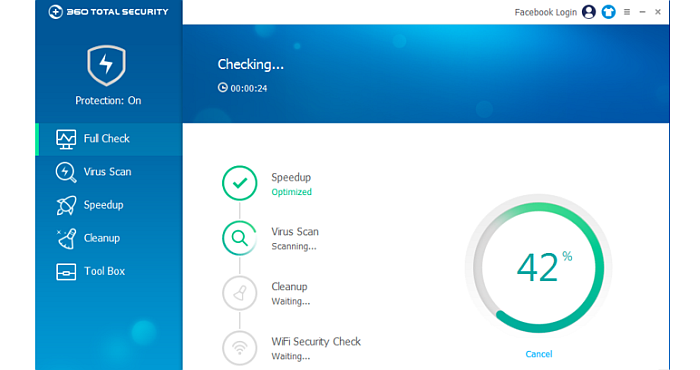 360 Total Security that ticks all the boxes across board is your perfect choice, if all you need is a quality, free security product with top features, such as tools to carry out system performance enhancements, clean up junk files and plugins, It is very simple to use and comes with a clear interface that is uncomplicated to navigate. It is not a meddling antivirus solution and it will allow you continue with whatever you are doing.
The Patch Up:
Helps you administer and follow up the most recent security updates. It centralizes Adobe and Microsoft security updates in one location, allowing you to make your operating system up to date with a click.
Full Check:
With just a click, it quickly check the safety, health and the general condition of your computers.
Speedup:
Manages and optimizes your system services, boot up items and plugins – curtail your boot time and get going earlier!
Cleanup:
This is the feature that frees your disk space by getting rid of plugin and junk files. This will boost the performance of your system while you can decide the files and areas to clean with cleanup.
Protection:
Provides four diverse user selectable modes including Custom, Security, Balanced and Performance. Each mode provides a different degree of protection from phishing attacks, malware and backdoors.